The Space Review: The benefits (and limitations) of space partnerships
on
January 22, 2013
at
4:02 pm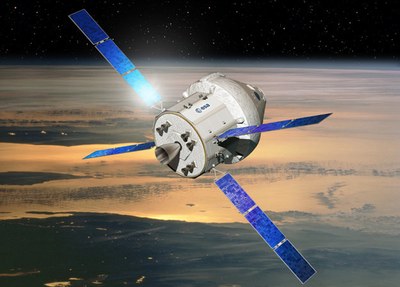 The Orion spacecraft will use a service module based on Europe's
ATV cargo spacecraft—but perhaps only for one mission.
(credit: ESA)

The benefits (and limitations) of space partnerships
by Jeff Foust
Monday, January 21, 2013
NASA has made it clear for many years that the future of its human spaceflight efforts would not be solely built and operated by the space agency. Future missions beyond Earth orbit would likely feature—and might require, given their expense—partnerships with other nations, building upon the lessons of the International Space Station. The private sector, meanwhile, would be encouraged to play a role by taking over responsibilities once exclusively in the domain of NASA or other space agencies.
That philosophy was on display last Wednesday in two separate events. In Houston, NASA and ESA announced plans to cooperate on the Orion crew vehicle program, with ESA building a service module for the spacecraft. A couple hours later, and a couple thousand kilometers away, NASA announced a contract with Bigelow Aerospace to test an inflatable module on the International Space Station. The two events illustrate how NASA plans to work more closely with both international and private partners in the future, but also, just as importantly, they illustrate some of the limitations of those approaches.
Read more: The Space Review: The benefits (and limitations) of space partnerships.