The Space Review: Rock, paper, scissors, lizard, Spock… and global warming policy choice
on
January 28, 2013
at
9:51 pm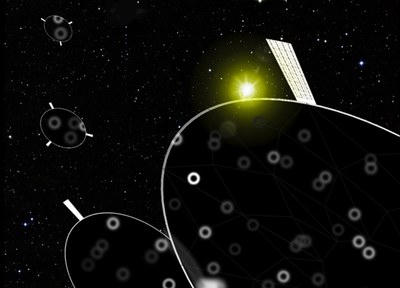 Building space-based sunshades might be a good way to deal with climate change, if the deal is sweetened with some extraterrestrial property rights. (credit: Univ. of Arizona)
Rock, paper, scissors, lizard, Spock… and global warming policy choice
by John Hickman
Monday, January 28, 2013
The conjuncture of environmental protection, international law, and political economy renders every policy response to global warming imperfect. In an example of Condorcet's Paradox, any policy response preferred according to one set of values, and perhaps acceptable according to another, is rejected according to yet another. Is the same true for space-based solutions to the issue?
Consider global greenhouse gas emissions reduction via government taxation and regulation. Popular because it carries no risk of additional environmental harm and promises restoration of the climate to an early industrial status quo, and permissible under international law, it runs afoul of the collective action problem in political economy. Realizing this policy is the ostensible goal of the annual Conferences of Parties for the Kyoto Protocol since 1995, but the product of those negotiations has been a record of failure to share the burden. Most states appear determined to free ride on any reductions in emissions made by a handful of more virtuous states.1
Read more: The Space Review: Rock, paper, scissors, lizard, Spock… and global warming policy choice.