The Space Review: Open source smallsats in Russia
on
January 7, 2013
at
8:04 pm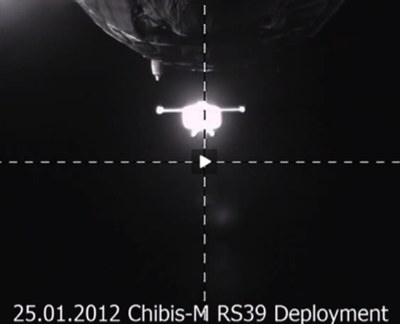 The deployment of the Chibis-M small satellite, using open
source technology, from a Progress spacecraft last January.
Open source smallsats in Russia
by Igor Afanasyev
Monday, January 7, 2013
The Russian microsatellite "Chibis-M" was delivered to the International Space Station (ISS) on October 30, 2011, as a payload onboard the Progress-M13 cargo vehicle. Cosmonauts Oleg Kononenko and Anton Shkaplerov unstowed it from Progress and completed preparation work on the satellite, mounting it from inside ISS and fixing it on the mating ring of the cargo vehicle. Chibis-M was successfully deployed on January 25, 2012, after Progress-M13 undocked from the ISS.
This was the successful completion of a story that started in the mid-2000s inside the Space Research Institute of the Russian Academy of Sciences. Scientists there has an idea to create a small but highly efficient spacecraft for detailed study of physical mechanisms of electric discharges (lightning) in the atmosphere is the widest energy range, from radio to gamma-ray emissions. Back in the Soviet era this would probably require creating a bulky and complicated vehicle, however, the lack of funds allocated to the space industry today, and the desire to launch a satellite in the near future, resulted in need to look for non-standard solutions in designing of such spacecraft.
By that time the space community worldwide had accumulated considerable experience in the design and operation of small satellites (up to 100 kilograms), handling tasks previously reserved for larger satellites. Small satellites are usually launched as secondary payloads together with the larger primary one.
Read more: The Space Review: Open source smallsats in Russia.