The Space Review: Fading skepticism of commercial spaceflight?
on
October 23, 2012
at
3:21 pm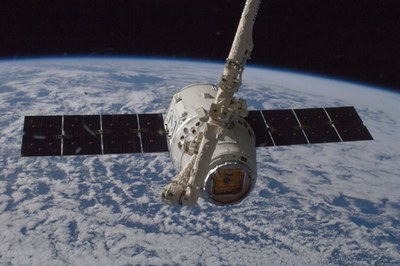 The success of SpaceX's Dragon missions to the ISS has been a major step in the eyes of some of reducing the skepticism about commercial spaceflight in general.
(credit: NASA)

Fading skepticism of commercial spaceflight?
by Jeff Foust
Monday, October 22, 2012
For many years, an entrepreneurs and enthusiasts promised a bright future for commercial spaceflight, both orbital and suborbital, there's been a significant amount of healthy—and, perhaps, unhealthy as well—skepticism about the industry. People noted the failed promises of past commercial space efforts, slipped schedules, unproven technologies and business cases, and so on, and wondered if the new crop of companies promising low-cost access to space for applications from space tourism to International Space Station resupply could really carry out their plans.
That skepticism was, in many cases, both understandable and even warranted, given that many NewSpace companies struggled to deliver on their promises. For example, eight years ago this month, SpaceShipOne won the $10-million Ansari X PRIZE, for example, and appeared to usher in a new era of suborbital spaceflight. Yet the prize-winning flight remains the last commercial suborbital human spaceflight to date. However, as companies start to finally deliver on their promises, or at least offer concrete evidence of doing, some of that past skepticism of commercial spaceflight shows signs of fading away.
Read more: The Space Review: Fading skepticism of commercial spaceflight?.