The Space Review: China's ASAT enigma
on
March 4, 2013
at
5:32 pm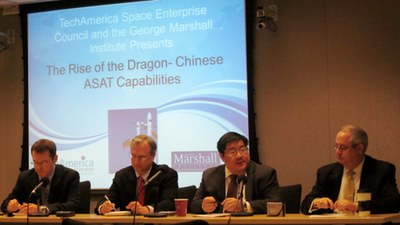 Panelists discuss China's ASAT and missile defense programs.
From left: Scott McMahon, Mark Stokes, Dean Cheng, and Jeff
Kueter, President, The George C. Marshall Institute.
(credit: D. Day)

China's ASAT enigma
by Dwayne Day
Monday, March 4, 2013
China has been launching a lot of satellites over the past several years and has taken many people by surprise with a rapid build-up of military space capabilities. However, although the rate of increase has been alarming, nobody could have been completely in the dark about China's development of military space capabilities. After all, in 2007 China announced their arrival on the military space stage with a bang, blasting one of their own defunct weather satellites into tens of thousands of pieces with a ground-launched anti-satellite (ASAT) weapon. China has not repeated that highly controversial test, which substantially increased the amount of debris flying around in low Earth orbit and endangers many satellites as well as the International Space Station. However, China has conducted at least one other similar anti-ballistic missile test that US military officials have implied exercised their ASAT capabilities. More recently, only a few months ago there were rumors of an impending ASAT test, which so far has not happened. What is clear is that, more than six years after their ASAT test, very little is clear.
On February 19, in Washington, DC, the TechAmerica Space Enterprise Council and the George Marshall Institute held a forum discussing China's plans, programs, and intentions for its ASAT and missile defense programs. The panel discussion featured Dean Cheng, Research Fellow at the Asian Studies Center of the Heritage Foundation; Mark Stokes, Executive Director at the Project 2049 Institute; and K. Scott McMahon, Senior Defense Research Analyst at the RAND Corporation.
The panel discussion focused on the international political as well as American military policy issues concerning the Chinese ASAT capability. The panelists did not discuss China's actual technical capabilities, a subject for which public information remains scarce. Although the United States Department of Defense publishes a regular, congressionally-mandated report on China's military capabilities, that report contains very limited details on the subject, presumably to avoid revealing what the American intelligence community has discovered about Chinese ASAT capabilities.
Read more: The Space Review: China's ASAT enigma.