The Space Review: Addressing the challenges of space debris, part 2: liability
on
December 17, 2012
at
10:15 pm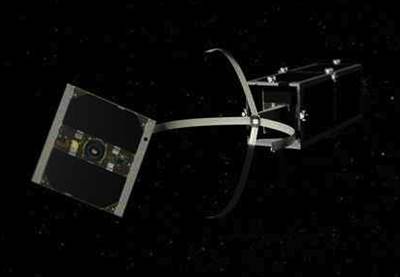 Technical approaches to removing space debris, like the Swiss
CleanSpace One spacecraft (above), require addressing concerns
about the liability such ventures may incur by trying to clean
up debris. (credit: EPFL)

Addressing the challenges of space debris, part 2: liability
by Michael Listner
Monday, December 17, 2012
In the first installment off this series, I introduced a new approach to defining space debris that will facilitate remediation instead of hindering it (see "Addressing the challenges of space debris, part 1: defining space debris", The Space Review, November 12, 2012). The second installment of this series will deal with the issue of liability. Liability in the context of space debris can be broken down into two categories: liability for existing space debris and liability for remediation of space debris. Each of these is discussed below.
Liability for existing space debris
Liability for space objects is governed by Article VII of the Outer Space Treaty and Article VII's extension through the Liability Convention. However, while the current interpretation of both treaties vest responsibility to a launching state for damage caused by space objects in outer space, in practice space debris as currently understood seems to be exempt.
Read more: The Space Review: Addressing the challenges of space debris, part 2: liability.