Spaceflight Now | Breaking News | Commercial crew program threatened by budget cuts
on
February 24, 2013
at
10:56 pm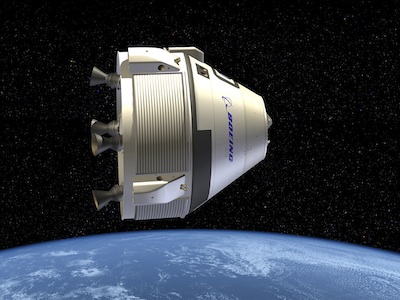 Artist's concept of Boeing's CST-100 commercial crew spacecraft.
Credit: Boeing
Commercial crew program threatened by budget cuts
BY STEPHEN CLARK
SPACEFLIGHT NOW
Posted: February 23, 2013
Automatic spending cuts due to go into effect March 1 would likely extend U.S. reliance on Russia for human spaceflight, delay development of badly-needed next-generation weather satellites, and force a reduction in radar scans searching for space debris, according to Obama administration officials.
That's if Congress and the White House don't act to avoid the across-the-board cuts, which will be automatically triggered at the end of next week without a compromise on how to deal with the federal government's budget deficit.
NASA would lose about $894 million from its current budget outlook in the period between March 1 and Sept. 30, the end of fiscal year 2013.
According to a letter to the chair of the Senate Appropriations Committee from NASA Administrator Charles Bolden, the space agency's commercial crew program would suffer the brunt of the budget cuts.
By the second half of 2013, NASA says it will be unable to make payments to companies working on private spaceships under the agency's commercial crew program.
Read more: Spaceflight Now | Breaking News | Commercial crew program threatened by budget cuts.