Orion assemblage on track for 2014 Launch — Universe Today
on
December 23, 2012
at
6:33 pm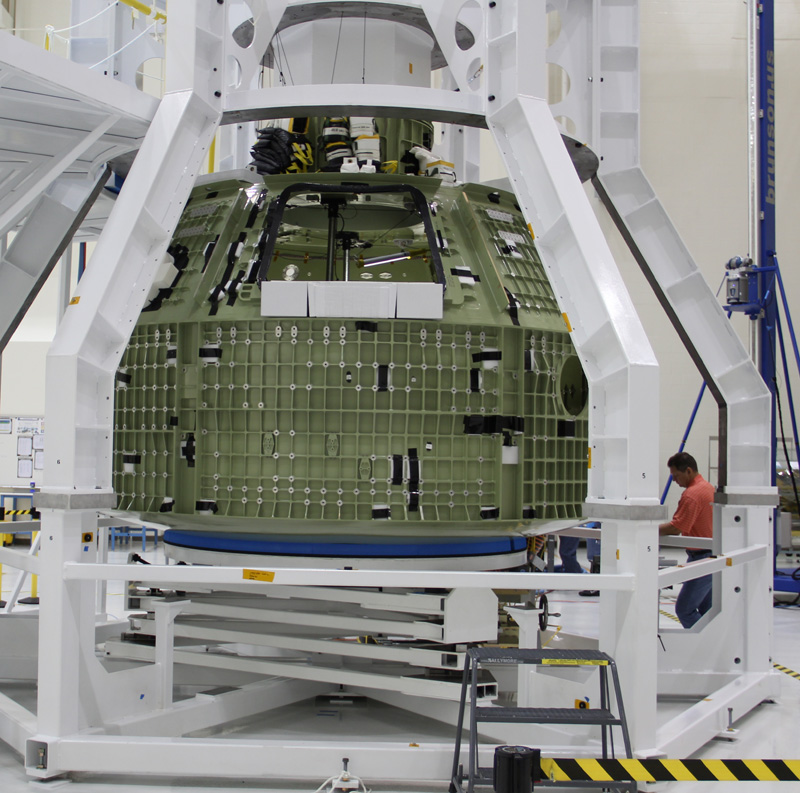 Image caption: Orion EFT-1 crew cabin construction ongoing inside the Structural Assembly Jig at the Operations and Checkout Building (O & C) at the Kennedy Space Center (KSC). This is the inaugural space-bound Orion vehicle due to blastoff from Florida in September 2014 atop a Delta 4 Heavy rocket. Credit: Ken Kremer
Orion assemblage on track for 2014 Launch
by KEN KREMER on DECEMBER 23, 2012
NASA is thrusting forward and making steady progress toward launch of the first space-bound Orion crew capsule -designed to carry astronauts to deep space. The agency aims for a Florida blastoff of the uncrewed Exploration Flight Test-1 mission (EFT-1) in September 2014 – some 20 months from now – NASA officials told Universe Today.
I recently toured the Orion spacecraft up close during an exclusive follow-up visit to check the work in progress inside the cavernous manufacturing assembly facility in the Operations and Checkout Building (O & C) at the Kennedy Space Center (KSC). Vehicle assemblage is run under the auspices of prime contractor Lockheed Martin Space Systems Corporation.
A lot of hardware built by contractors and subcontractors from all across the U.S. is now arriving at KSC and being integrated with the EFT-1 crew module (CM), said Jules Schneider, Orion Project manager for Lockheed Martin at KSC, during an interview with Universe Today beside the spacecraft at KSC.
"Everyone is very excited to be working on the Orion. We have a lot of work to do. It's a marathon not a sprint to build and test the vehicle," Schneider explained to me.
Read more: Orion assemblage on track for 2014 Launch — Universe Today.