Nearly All Sun-Like Stars Have Planetary Systems — Universe Today
on
January 7, 2013
at
5:16 pm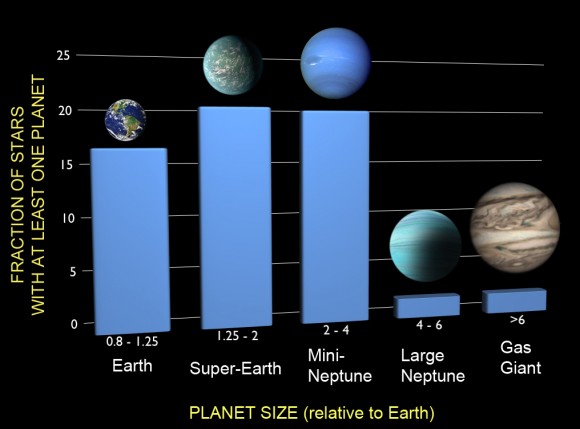 A new analysis examined the frequencies of planets of different sizes based on findings from NASA's Kepler spacecraft, correcting for both incompleteness and false positives. The results show that one in six stars has an Earth-sized planet in a tight orbit. Credit: F. Fressin (CfA)
Nearly All Sun-Like Stars Have Planetary Systems
by NANCY ATKINSON on JANUARY 7, 2013
The latest analysis of data from the Kepler planet-hunting spacecraft reveals that almost all stars have planets, and about 17 percent of stars have an Earth-sized planet in an orbit closer than Mercury. Since the Milky Way has about 100 billion stars, there are at least 17 billion Earth-sized worlds out there, according to Francois Fressin of the Harvard-Smithsonian Center for Astrophysics (CfA), who presented new findings today in a press conference at the American Astronomical Society meeting in Long Beach, California. Moreover, he said, almost all Sun-like stars have planetary systems.
The holy grail of planet-hunting is finding a twin of Earth – a planet of about the same size and in the habitable zone around similar star. The odds of finding such a planet is becoming more likely Fressin said, as the latest analysis shows that small planets are equally common around small and large stars.
Read more: Nearly All Sun-Like Stars Have Planetary Systems — Universe Today.