Mars Exploration Rover Update: Opportunity Quietly Completes 9 Years Uncovering More Evidence of Water | The Planetary Society
on
February 7, 2013
at
7:35 pm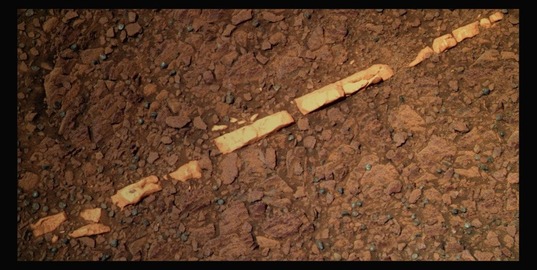 Homestake
This image of Homestake, which Opportunity took with her Pancam back in December 2011, was processed here by Stuart Atkinson. It shows the "sparkly bits" that Ray Arvidson, MER deputy principal investigator, talked about in past MER Updates. The scientists found that Homestake is rich with gypsum, a sure sign of past water in this area of Mars. Click here for more of Atkinson's work. NASA / JPL-Caltech / Cornell / ASU / S. Atkinson
Mars Exploration Rover Update: Opportunity Quietly Completes 9 Years Uncovering More Evidence of Water
Sols 3178 – 3208
By A.J.S. Rayl
2013/02/06 03:13 CST
With its robot nose to the Martian grindstone, Opportunity completed its ninth year of working on Mars in January, making another significant science discovery in tiny white veins on Matijevic Hill as the Mars Exploration Rover (MER) mission rolled on into Year 10.
"The big news of the month are the veins – they're calcium sulfate," Steve Squyres, MER principal investigator, of Cornell University, told the MER Update. "The thing that's incredibly cool here is you have these little, thin calcium sulfate veins that clearly show water flowing through cracks in the ground here." As findings go, he added, "this is a big one."
The small veins are in the same flat, light-toned Whitewater Lake rock unit that is harboring the clay minerals Opportunity came to find at Endeavour Crater. With help from a visible infrared spectrometer called the Compact Reconnaissance Imaging Spectrometer for Mars (CRISM) onboard the Mars Reconnaissance Orbiter (MRO), the rover team successfully ground-truthed the presence of those clay minerals, grabbing that scientific brass ring in December.
Read more: Mars Exploration Rover Update: Opportunity Quietly Completes 9 Years Uncovering More Evidence of Water | The Planetary Society.