Keeping the Worldship Alive — centauri-dreams.org
on
September 21, 2012
at
12:00 pm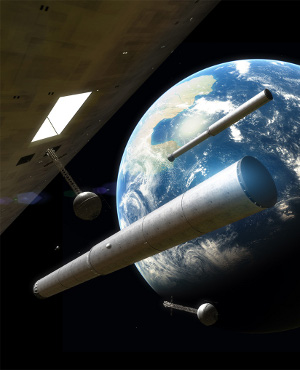 Keeping the Worldship Alive
by PAUL GILSTER on SEPTEMBER 21, 2012


One of the challenges of explaining why a starship project is worth doing even though its final goal may not be realized for a long time is in showing how this work can have an impact on improving things on Earth. Technological spinoffs have acquired a bad name because of the stigma of Teflon and Tang — NASA hasn't made the strongest case for how advanced work changes lives (and in any case, Teflon and Tang are not actually NASA spinoffs, though they are in the eyes of the public). But so many basic computer functions today grew out of database work Lockheed first performed for NASA, and there is every reason to believe that energy breakthroughs in propulsion and power generation could be highly useful in solving our planet's future energy demands.
The list can obviously be expanded, as in the case of closed ecologies, which we've been talking about recently in these pages. A long-duration human mission demands attention to environments and their maintenance that will surely tell us much about preserving Earth's ecosystems. Now I see that Rachel Armstrong, who works on sustainable environmental solutions using synthetic biology, is developing Project Persephone, an Icarus Interstellar initiative for the 100 Year Starship effort that looks at starship architecture and how it can best protect its inhabitants.
Read more: Keeping the Worldship Alive — centauri-dreams.org


Home           Top of page