Interstellar Flight: The View from Kansas — Centauri Dreams
on
December 10, 2012
at
2:35 pm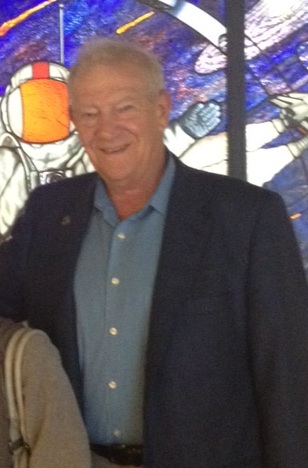 Image: Publisher and space activist Steve Durst,
standing in front of the "Ad Astra Per Aspera"
stained-glass artwork at the Kansas Cosmosphere
and Space Center in Hutchinson just before
Galaxy Forum Kansas on September 22, 2012.
Interstellar Flight:
The View from Kansas
by PAUL GILSTER on DECEMBER 10, 2012
If Kansas may not be the first place that comes to mind when you think about interstellar matters, be aware that its state motto is 'Ad Astra Per Aspera' — to the stars through difficulties. That's a familiar phrase for anyone who has pondered the human future in space, appearing in countless science fiction stories and often invoked by those with a poetical streak. It turns out that the Kansas motto was not, however, the work of some percipient 19th Century Robert Forward figure, but of one John Ingalls, a lawyer, scholar and statesman who introduced the motto as far back as 1861. And while its roots were in the coming Civil War, the story of Ingalls' motto is so entertaining that it merits inclusion here, as reported by biographer G. H. Meixell:
"I was secretary of the Kansas state senate at its first session after our admission in 1861. A joint committee was appointed to present a design for the great seal of the state and I suggested a sketch embracing a single star rising from the clouds at the base of a field, with the constellation (representing the number of states then in the Union) above, accompanied by the motto, "Ad astra per aspera." If you will examine the seal as it now exists you will see that my idea was adopted, but in addition thereto the committee incorporated a mountain scene, a river view, a herd of buffalo chased by Indians on horseback, a log cabin with a settler plowing in the foreground, together with a number of other incongruous, allegorical and metaphorical augmentations which destroyed the beauty and simplicity of my design."
It was ever thus, and not just for politicians with an artistic bent. Any writer can tell stories about botched copy edits that would make even Ingalls shake his head in disbelief.
Space advocate Steve Durst was well aware of the history embedded in Ingalls' motto, but also taken with the idea of Kansas in a more astronomical context. After numerous trips to the state, he would go on to found an organization called Ad Astra Kansas, focusing on high-tech and space research but with a wider charter that includes getting the word out about interstellar matters through education. The idea grew out of two other projects likewise affiliated with Durst's Space Age Publishing Company: The International Lunar Observatory Association and an international series of public presentations called the Galaxy Forum. Durst says he has always been looking for "something broad that would be inspirational, directional, iconic, symbolic," and in promoting the concept of interstellar flight, he has surely found it.
Read more: Interstellar Flight: The View from Kansas — Centauri Dreams.