In 2025 630 Million of Us Will Live in 37 Megacities | World Future Society
on
March 7, 2013
at
9:52 pm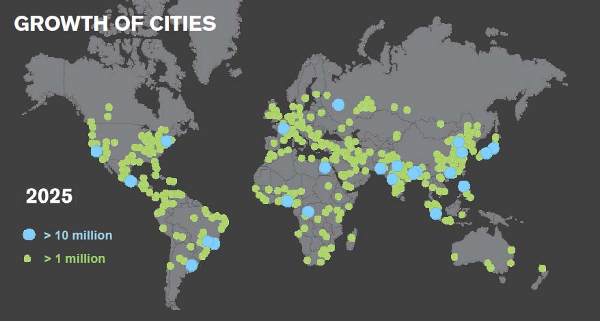 Len Rosen's blog ›
In 2025 630 Million of Us Will Live in 37 Megacities
Posted on March 6, 2013
Subject(s): Cities
As I was reading my morning paper today I came across a quote from Robert Friedland, an entrepreneur and mining engineer who in giving a speech to the MineAfrica event of the Prospectors and Developers Association annual conference being held in my hometown of Toronto, talked about the importance of Africa as an untapped resource for key minerals. He framed this remark around the issue of rural to urban migration accelerating in Africa and many other parts of the Developing World.
What struck me about the speech was the following quote: "By 2025, which is tomorrow morning in geologic time, and at the scale in which we invest in mining, 630 million people, or 14 per cent of the world's urban population, and 8 per cent of all the people walking on this planet, will live in 37 megacities…..As you build those cities, not only are you wildly consumptive of copper and steel and iron and molybdenum, but look at the air. If you want to clean that air, the environmental metals are copper, platinum and palladium." In other words, being in mining in the 21st century is a good thing because of the overwhelming demand for urban infrastructure and the technology to keep city environments livable.
Read more: In 2025 630 Million of Us Will Live in 37 Megacities | World Future Society.