How Will Sequestration Affect NASA? — Universe Today
on
March 1, 2013
at
10:26 am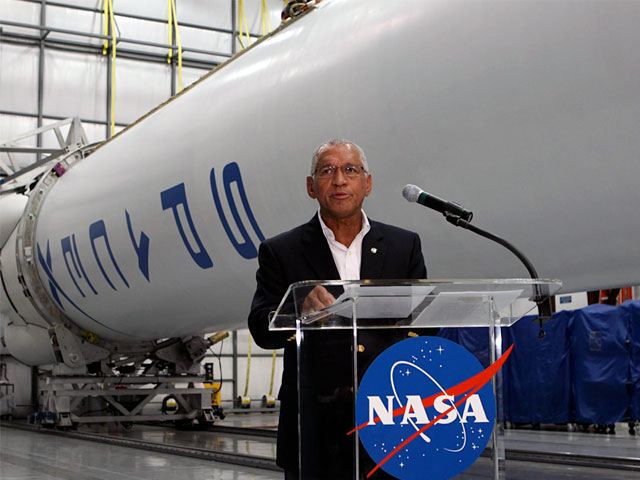 NASA Administrator Charles Bolden addresses the media at SpaceX's main hangar in Cape Canaveral, FL. The sequester will affect both NASA and SpaceX. Credit: NASA.
How Will Sequestration Affect NASA?
by NANCY ATKINSON on MARCH 1, 2013
It seems the US in not going to avoid the sequester — the $85 billion worth of federal spending cuts due to kick in March 1, 2013. There will be across the board cuts to government agencies, applying equally to defense and non-defense spending, and will affect services from meat inspections to air traffic control. In some cases, federal workers will be furloughed or could stand to lose as much as 20 percent of their pay. One question no one can answer is how long it will take for Congress and the Obama administration to come to an agreement on a package that would reduce the deficit.
But in the near term, how will it affect NASA?
"Sequestration would significantly set back the ambitious space exploration plan the President and Congress have asked NASA to carry out," NASA Administrator Charlie Bolden said in a message to NASA employees this week. "These damaging cuts would slash roughly 5 percent from the agency's current annual budget during the remaining seven months of the 2013 fiscal year, a loss of about $726 million from the President's budget request. This could further delay the restarting of human space launches from U.S. soil, push back our next generation space vehicles, and hold up development of new space technologies.
In hard numbers, NASA's overall budget would drop to $16.9 billion, down from the $17.8 billion Congress approved last year.
NASA civil servants are safe from furloughs, but NASA contractors will see cuts in their contracts.
In a press conference on Feb. 28, preceding the scheduled March 1 launch of the SpaceX Dragon capsule to the ISS, NASA's Space Station Manager Mike Suffredini said the ISS would not be impacted very much. With humans on board the ISS, there can be no cuts in operations that would endanger the crew. While Sufferdini didn't say so, if the cuts continue long-term to NASA, there likely would be an impact to science being done, and perhaps eventually crew size.
Spending on the commercial crew program might take one of the biggest hits, and would be reduced to $388 million, which is $18 million less than it is currently spending and $441.6 million less than the agency had been planning to spend in 2013. Boeing, Sierra Nevada, and SpaceX are all under contract to meet performance milestones to deliver cargo and ultimately crew (by 2017) to the International Space Station.
ad more: How Will Sequestration Affect NASA? — Universe Today.