Dawn journal: Vesta's mountains, gorges and craters | The Planetary Society
on
February 1, 2013
at
6:29 pm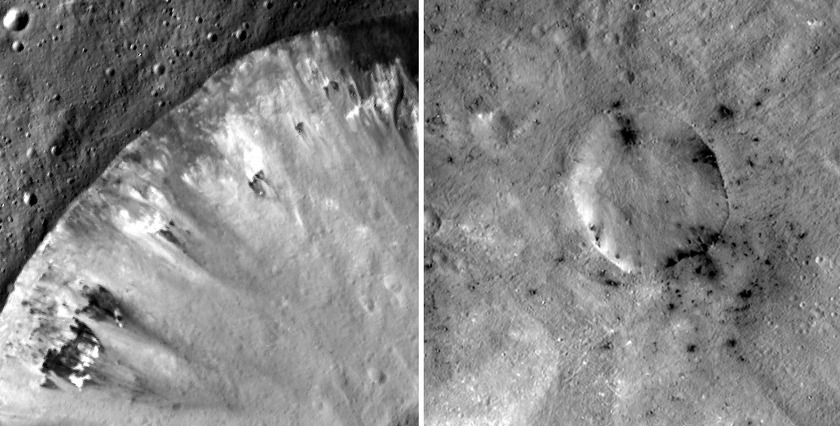 Numisia Crater (left) and a shallow, unnamed crater (right) show dark, carbon-rich materials around their rims, a common feature of Vesta's smaller craters. NASA/JPL-Caltech/UCLA/MPS/DLR/IDA
Dawn journal: Vesta's mountains, gorges and craters
Posted By Marc Rayman
2013/01/31 06:09 CST
Dear Dawnt Look Backs,
Its long and daring interplanetary journey continuing smoothly, Dawn is making good progress in gradually reshaping its orbit around the sun. Its uniquely efficient ion propulsion system is gently bringing it closer to its next destination, dwarf planet Ceres, and ever farther from its previous one, Vesta. Although the robotic explorer's sights are set firmly ahead, let's take one last look back at the fascinating alien world it unveiled during its 14 months in orbit there.
Vesta, the second most massive resident of the main asteroid belt between Mars and Jupiter, was discovered in 1807. For more than two centuries thereafter, the mysterious object appeared as little more than a fuzzy patch of light among the stars. The only one of the millions of main belt asteroids to be bright enough to be visible to the naked eye, Vesta beckoned, but its invitation was not answered until Dawn arrived in July 2011, nearly four years after it left distant Earth. The cosmic ambassador is the only spacecraft ever to have orbited an object in the main asteroid belt, and its ambitious mission would have been impossible without ion propulsion.
Dawn found a complex and exotic place, and it returned a fabulously rich collection of pictures and other measurements that will continue to be analyzed for many, many years. For now, we will simply touch on a very few of the many insights that already have been illuminated by the light of Dawn.
Scientists recognize Vesta as being more like a mini-planet than like the chips of rock most people think of as asteroids. The behemoth is 565 kilometers (351 miles) wide at the equator and has a surface area more than twice that of California (although it is populated by far fewer eccentrics, billionaires, and other colorful characters found in that state). Dawn's measurements of the gravity field provide good evidence that Vesta separated into layers, much like Earth did as the planet was forming. Vesta's dense core, composed principally of iron and nickel, may be 200 to 250 kilometers (125 to 150 miles) across. Surrounding that is the mantle, which in turn is covered by the veneer of the crust, about 20 kilometers (12 miles) thick. The once-molten core is now solid (in contrast to Earth's, which remains hot enough to be liquid), but the differentiation into layers gives Vesta a key distinction from most asteroids. Because it was likely still in the process of accumulating material to become a full-sized planet when Jupiter's immense gravity terminated its growth, scientists often refer to Vesta as a protoplanet.
Read more: Dawn journal: Vesta's mountains, gorges and craters | The Planetary Society.