Dawn journal: hydrazine haste makes waste | The Planetary Society
on
December 5, 2012
at
5:24 pm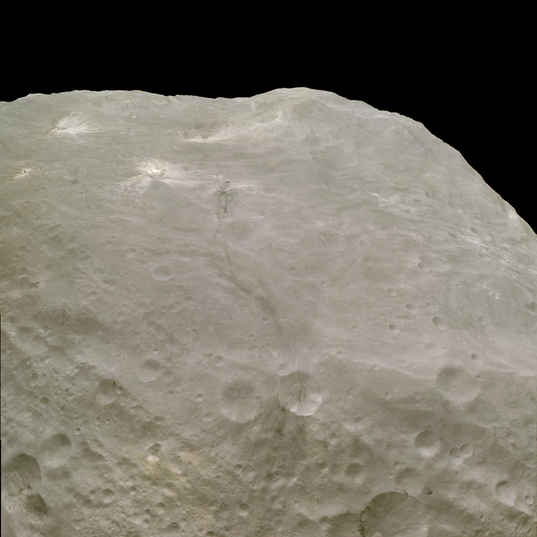 Rheasilvia central peak, Vesta. Approximately true color image of the south polar mountain in center of the crater Rheasilvia. Images 0005756, 0005761, 0005755. Taken on August 20, 2011 from an altitude of 2713 kilometers and with a resolution of 258 meters per pixel. NASA / JPL / MPS / DLR / IDA / Daniel Machácek
Dawn journal: hydrazine haste makes waste
Posted By Dawn Journal
2012/12/05 11:02 CST
Dear Dawndroids,
Dawn is continuing to gently and patiently change its orbit around the sun. In September, it left Vesta, a complex and fascinating world it had accompanied for 14 months, and now the bold explorer is traveling to the largest world in the main asteroid belt, dwarf planet Ceres.
Dawn has spent most of its time since leaving Earth powering its way through the solar system atop a column of blue-green xenon ions emitted by its advanced ion propulsion system. Mission controllers have made some changes to Dawn's operating profile in order to conserve its supply of a conventional rocket propellant known as hydrazine. Firing it through the small jets of the reaction control system helps the ship rotate or maintain its orientation in the zero-gravity of spaceflight. The flight team had already taken some special steps to preserve this precious propellant, and now they have taken further measures. If you remain awake after the description of what the changes are, you can read about the motivation for such frugality.
Dawn's typical week of interplanetary travel used to include ion thrusting for almost six and two-thirds days. Then it would stop and slowly pirouette to point its main antenna to Earth for about eight hours. That would allow it to send to the giant antennas of NASA's Deep Space Network a full report on its health from the preceding week, including currents, voltages, temperatures, pressures, instructions it had executed, decisions it had made, and almost everything else save its wonderment at operating in the forbidding depths of space so fantastically far from its planet of origin. Engineers also used these communications sessions to radio updated commands to the craft before it turned once again to fire its ion thruster in the required direction.
Read more: Dawn journal: hydrazine haste makes waste | The Planetary Society.