DARPA unveils robotic plan to reuse, recycle satellites in 2015 | Ars Technica
on
January 22, 2013
at
6:44 pm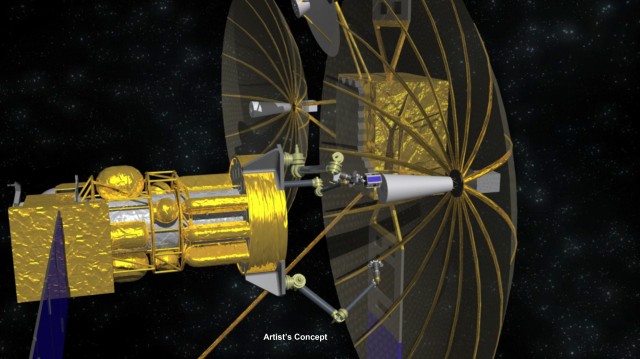 An artist's depiction of the Phoenix hardware platform going to work on the aperture of a defunct satellite.
DARPA
DARPA unveils robotic plan to reuse, recycle satellites in 2015
Phoenix program to test viability of harvesting parts from mothballed hardware.
by John Timmer – Jan 22 2013, 2:36pm EST
On Tuesday, the Defense Advanced Research Projects Agency (DARPA) announced the next stage in an ambitious project called Phoenix, which it hopes will bring about the first demonstration of robotic, in-orbit satellite servicing in 2015.
The servicing, however, won't involve the repair of an existing satellite—instead, one that has already been retired will be scavenged for spare parts. If all goes well, the antenna (or aperture) of the defunct satellite will be linked with one or more small "satlets" that will return it to active duty.
"[Phoenix is a] modest effort to increase the return-on-investment for DoD [Department of Defense] space missions," Dave Barnhart, a DARPA program manager, said at a recent press conference.
It costs a lot of money to put something into geosynchronous orbit, and not everything that's been put there remains active. In many cases, this is because of the failure or obsolescence of only some of their hardware, while other parts remain perfectly viable and functioning. (In fact, we already know they've functioned after launch and deployment.)
In short, the Phoenix project is essentially a very complicated recycling program.
"If you have the ability to utilize hardware that's up there, you can do this at a lower cost," Barhart added.
Read more: DARPA unveils robotic plan to reuse, recycle satellites in 2015 | Ars Technica.