Curiosity Hammers into Mars Rock in Historic Feat — Universe Today
on
February 4, 2013
at
5:55 pm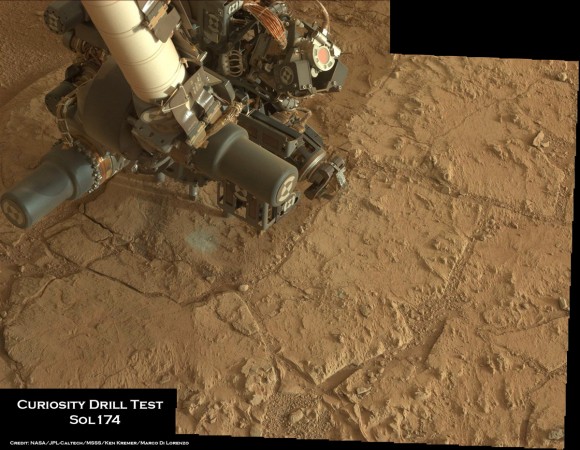 Image caption: Curiosity tool turret located at end of robotic arm is positioned with drill bit in contact with John Klein outcrop for 1st hammer drilling into Martian rock surface on Jan 31, 2013. It's nearby a spot that was brushed earlier. Credit: NASA/JPL-Caltech/MSSS/Ken Kremer/Marco Di Lorenzo
Curiosity Hammers into Mars Rock in Historic Feat
by KEN KREMER on FEBRUARY 4, 2013
A robot from Earth has successfully drilled into a Martian rock for the first time ever and exposed pristine alien material for high powered science analysis.
NASA's car sized Curiosity rover deliberately plunged the drill bit on the end of her 7 foot (2.1 m) robot arm into a flat outcrop of rocks possessing hydrated mineral veins, that is situated inside a shallow basin named Yellowknife Bay where water repeatedly flowed.
"The drill test was done. The mission has been spectacular so far," said Dr. Jim Green, Director of NASA Planetary Sciences Division at NASA HQ, in an exclusive interview today with Universe Today on the campus of Princeton University. "The area is tremendously exciting."
And what's even more amazing is that as Curiosity hammered straight down into the rock outcrop, it appears that the resulting vibrations also simultaneously uncovered a hidden vein of whitish colored material that might be calcium sulfate – as the Martian ground shook and a thin layer of rust colored soil was visibly dislodged.
The robot is working at a place called Glenelg – where liquid water once flowed eons ago across the Red Planet's surface.
"This area is really rich with all the cracks in the rocks and the veins. It's really fabulous," Green told me. "The landing was an engineering feat that enabled us to do all this great science that comes next."
Read more: Curiosity Hammers into Mars Rock in Historic Feat — Universe Today.