Curiosity Gets a Sister – What Should She Do? Scientists Speak — Universe Today
on
December 9, 2012
at
1:09 pm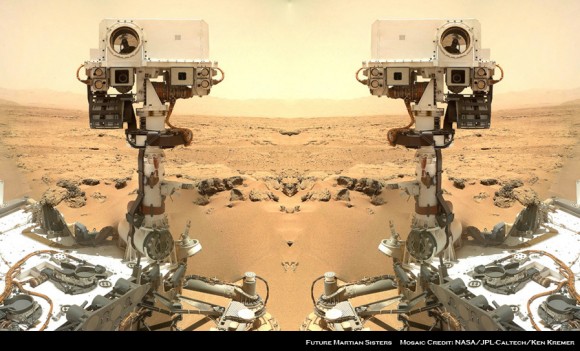 Image caption: Seeing Double – Future Martian Sisters. NASA just announced plans to build and launch a new Mars science robotic rover in 2020 based on the design of the tremendously successful Curiosity rover which touched down safely inside Gale Crater on Aug. 6, 2012. This mosaic illustrates an imaginary Red Planet get-together of Curiosity and her yet to be constructed Martian sister. Credit: NASA/JPL-Caltech/MSSS/Ken Kremer
Curiosity Gets a Sister – What Should She Do? Scientists Speak
by KEN KREMER on DECEMBER 9, 2012
Curiosity will apparently get a sister after all and she'll be born in 2020 – rising from the ashes of a near death experience.
The good news concerning approval of a future NASA Mars rover was announced this week by John Grunsfeld, NASA Associate Administrator for the Science Mission Directorate at NASA HQ, at the 2012 annual meeting of the AGU (American Geophysical Union) held in San Francisco.
What should Curiosity's younger sister do? There are a multitude of great ideas, but a paucity of money in these very tough budget times – foremost among them is to gather and return the first ever Martian soil samples to Earth. What should the science goals be especially with regards to sample cache/return?
So, I asked these questions to Grunsfeld and leading Mars scientists, including Steve Squyres and Ray Arvidson, the science team leaders of NASA's wildly successful Spirit and Opportunity Mars Exploration Rovers (MER). Opportunity is nearing the 9th anniversary of her Red Planet touchdown – and is exploring the most scientifically bountiful terrain yet of her entire mission at this very moment.
The design for the new Mars rover, let's call it MSL 2, will be largely based on NASA's hugely successful Curiosity Mars Science Laboratory (MSL) rover and the breathtaking rocket powered 'Sky Crane' landing architecture she so elegantly employed for touchdown barely 4 months ago on Aug. 6, 2012.
Grunsfeld and the researchers weighed in to Universe Today with their thoughts on this – "Will the 2020 Mars rover be focused on astrobiology and the search for life? Or, other goals like sample return or future human visits?"
Read more: Curiosity Gets a Sister – What Should She Do? Scientists Speak — Universe Today.