Collier's: Gorgeous Art, Breathtaking Ideas — Centauri Dreams
on
October 2, 2012
at
2:31 pm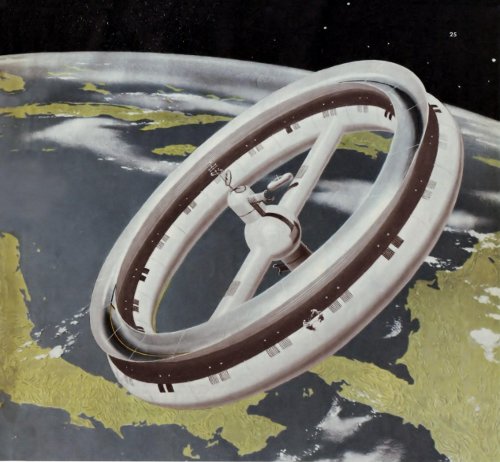 Collier's:
Gorgeous Art, Breathtaking Ideas
by Paul Gilster on October 2, 2012
In the course of an enjoyable dinner with Douglas Yazell, Shen Ge and Al Jackson (this was in Houston at the 100 Year Starship Symposium), I learned that the Houston section of the American Institute of Aeronautics and Astronautics was in the process of reprinting, in its entirety, the famous Collier's series on manned spaceflight. Yazell is editor of Horizons, the bi-monthly publication of the Houston group, and fortunately for all of us, it is both online and free. For me, revisiting these stirring articles will be a priority as each comes out. The July/August issue contains Collier's for March 22, 1952, first in the series.
I can only imagine how this issue of Collier's would have drawn the eye in the typical early 1950s newsstand. The Chesley Bonestell cover shows an enormous winged rocket staging as it soars above an Earth flecked with cloud and crimson with distant sunlight
Read more: Collier's: Gorgeous Art, Breathtaking Ideas — Centauri Dreams.