Checking in with the Future of Mars Exploration at NASA | The Planetary Society
on
February 28, 2013
at
9:52 pm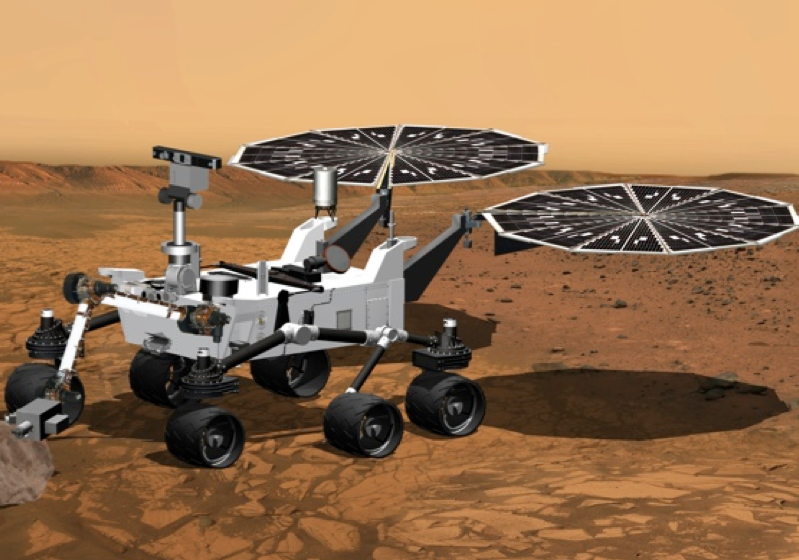 MSL-Derived Mars Sample Caching Concept Rover
An artist's concept of an MSL-derived caching rover that uses solar panels instead of an RTG for its power source. This is similar to what was proposed on Dec 4th, 2012 by NASA as the 2020 mission to Mars, though it is unclear whether or not it would use solar panels. NASA
Checking in with the Future of Mars Exploration at NASA
Posted By Casey Dreier
2013/02/27 02:17 CST
Topics: Space Policy, NASA Budget, Future Mission Concepts, Explaining Policy, Mars, Mars 2020
Despite the counter-programming of the press announcement of the new crewed Mars mission by Dennis Tito, I was following today's meeting of the Mars Exploration Program Analysis Group (MEPAG), NASA's community forum for scientific input on future Mars exploration.
MEPAG meetings occur a few times a year and offer the scientific community a chance to interact with representatives from NASA Headquarters about current and future Mars mission plans and priorities. MEPAG reports to the NASA Advisory Council which in turn advises the NASA Administrator about issues within the agency. Policy is important, and a lot of important insights and background information can be conveyed in these meetings, as it can give hints to agency priorities and goals (presentations from the Human Exploration Sections, for example, repeatedly crop up in these meetings).
If there was a theme to today's meeting, it's that the Mars program is doing very well, considering. Statements to this effect were repeated many times by NASA representatives throughout the day, and though I feel they're generally correct, it's cold comfort to many in the scientific community who still feel the sting of NASA's last-minute withdrawal from the joint-European ExoMars and TraceGas Orbiter missions last year due to unexpected budget cuts.
But it's true that the Mars program is doing ok! There is a relatively big, ambitious mission to Mars on the books (leaving in 2020). There are many active missions exploring Mars right now, and two more departing soon: MAVEN, which will explore the history of Mars' atmosphere will launch this year; and Insight, which will probe geophysical questions about the planet, launches in 2016.
So it's really a question of moving on after the past loss. There is a good future, it's not what most people wanted, but it's still pretty good. Given the budget issues, especially now with sequestration, a possible government shutdown in March with the expiration of the current funding bill, and general political gridlock, it is somewhat amazing that these future missions are (so far!) making it through relatively unscathed.
Now for some stray observations:
Read more: Checking in with the Future of Mars Exploration at NASA | The Planetary Society.