Astronomers Calculate Orbit and Origins of Russian Fireball — Universe Today
on
February 26, 2013
at
9:44 pm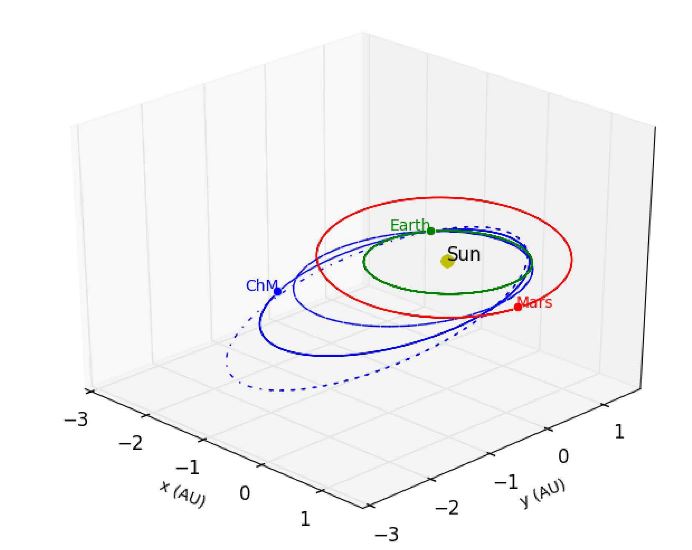 Reconstructed orbits for the Chelyabinsk meteoroid.
Credit: Jorge Zuluaga and Ignacio Ferrin, University of Antioquia in Medellin, Colombia
Astronomers Calculate Orbit and Origins of Russian Fireball
by NANCY ATKINSON on FEBRUARY 25, 2013
Just a week after a huge fireball streaked across the skies of the Chelyabinsk region of Russia, astronomers published a paper that reconstructs the orbit and determines the origins of the space rock that exploded about 14-20 km (8-12.5 miles) above Earth's surface, producing a shockwave that damaged buildings and broke windows.
Researchers Jorge Zuluaga and Ignacio Ferrin at the University of Antioquia in Medellin, Colombia used a resource not always available in meteorite falls: the numerous dashboard and security cameras that captured the huge fireball. Using the trajectories shown in videos posted on YouTube, the researchers were able to calculate the trajectory of the meteorite as it fell to Earth and use it to reconstruct the orbit in space of the meteoroid before its violent encounter with our planet.
The results are preliminary, Zuluaga told Universe Today, and they are already working on getting more precise results. "We are working hard to produce an updated and more precise reconstruction of the orbit using different pieces of evidence," he said via email.
But through their calculations, Zuluaga and Ferrin determined the rock originated from the Apollo class of asteroids.
Read more: Astronomers Calculate Orbit and Origins of Russian Fireball — Universe Today.