A US high speed rail network shouldn't just be a dream — the guardian
on
February 10, 2013
at
5:30 pm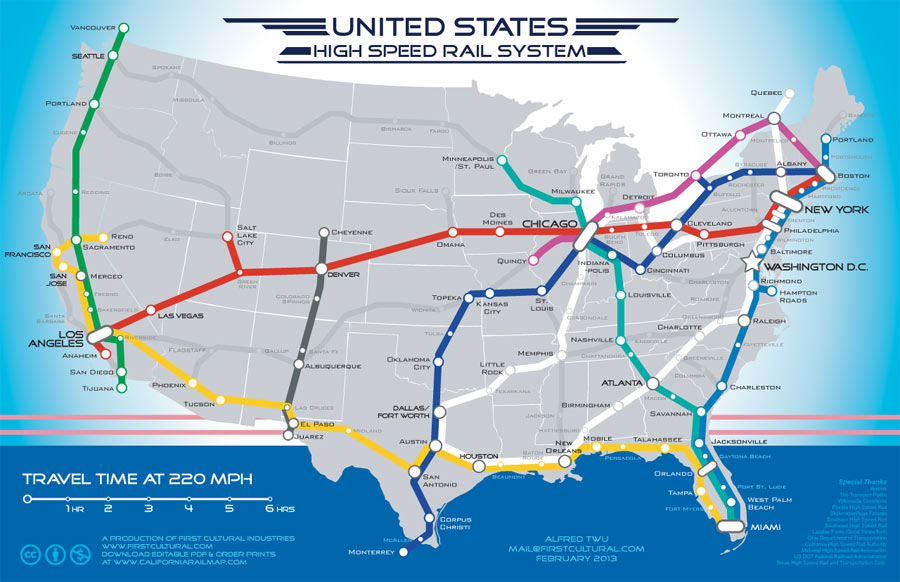 Alfred Twu created this US High Speed Rail map to showcase what could be possible
A US high speed rail network shouldn't just be a dream
There are social and commercial benefits to high speed rail. My map of what's possible drew supporters from coast to coast.
Alfred Twu
guardian.co.uk, Wednesday 6 February 2013 15.52 EST
I created this US High Speed Rail Map as a composite of several proposed maps from 2009, when government agencies and advocacy groups were talking big about rebuilding America's train system.
Having worked on getting California's high speed rail approved in the 2008 elections, I've long sung the economic and environmental benefits of fast trains.
This latest map comes more from the heart. It speaks more to bridging regional and urban-rural divides than about reducing airport congestion or even creating jobs, although it would likely do that as well.
Instead of detailing construction phases and service speeds, I took a little artistic license and chose colors and linked lines to celebrate America's many distinct but interwoven regional cultures.
The response to my map this week went above and beyond my wildest expectations, sparking vigorous political discussion between thousands of Americans ranging from off-color jokes about rival cities to poignant reflections on how this kind of rail network could change long-distance relationships and the lives of faraway family members.
Read more: A US high speed rail network shouldn't just be a dream — the guardian.